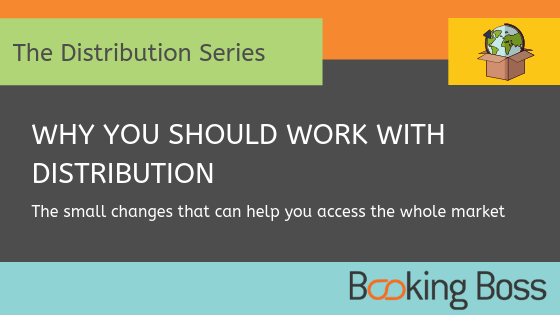 Distribution in tourism are the channels which can extend your reach and promotion. They have connections to markets you may not have reached yet or a bigger customer base, which they can share with you!
Aside from extending your reach further than between yourself and the customer in direct sales, distributors are among the most cost-effective in filling larger numbers of seats or ticket availability, especially in the low season. There are four main types of distributors who you may have the opportunity to work with, granted that your product is established, of interest and it priced according to working with distribution.
1. Retail travel agents
Retail Travel Agents both domestically and overseas, can promote your product to those who are in their store. They typically have negotiated commission (general rule is 10% commission) involved for up-selling certain experiences. It might be worth your time to work out your nearest travel agent in your local area and discuss options for promoting your tour to travellers who are booking in-destination.
2.

Wholesalers
Wholesalers are the ones who package and bundle holiday packages together. It's the wholesaler who bundles together a number of activities, transport options and accommodation to be sold as a package. The wholesaler has agreements with retail travel agent chains and sell their packages and products through them. Working with wholesalers means that you can:
1. Open your domestic market - work with the wholesalers who work with the retail agent chains throughout your region.
2. Open up specific international markets - work with wholesalers located in specific international source markets that you wish to increase visitors from. Example, if you are an attraction in Australia, Africa, Asia and India and you want to open the US market, then you can work with Swain Destinations who are based in Pennsylvania, US.
General rule for working with wholesalers is offering 20 - 25% nett rates.
3. Inbound Tour Operators (ITOs) / Receptives
ITOs & Receptives are based locally to you (in-destination). They negotiate the contracts with local tourism operators and package these up for their wholesale contracts that they have. These companies assist overseas wholesalers with payments (this way a wholesaler isn't paying multiple bills to multiple products, it's the one bill and one international transaction) and also coordinate all the "on the ground" bookings with each tourism product in the travellers itinerary. If you are wanting to open up your international markets, these are usually the first port of call.
General rule for working with ITOs/Receptives is offering 25 - 30% nett rates.
4. Online Travel Agents (OTAs).
It would be rude of us not to mention the online distributors such as Expedia, TripAdvisor and Viator, who are among the biggest in the travel industry. These are hugely beneficial for bookings in today's technological climate, with a growing number of tourists organising their travel through these providers. OTA's not only offer another channel for your business to be booked via, but also can promote your tour or attraction to their massive subscriber list. Read our blog on working with online travel agents to find out more.
5. Tour Operators
Lastly, if you are an attraction, you also work with Tour Operators who bring visitors to your venue. They can either day tour operators or multi-day tour operators. Depending on the volume the bring, you can offer between 15 - 40% nett rates. You reserve the higher levels for those who bring larger volumes and who also distribute via international trade (these businesses are also paying up to 30% to ITOs/Receptives).
So, which are the right ones to work with your company?
This will depend on who your audience is and which market you are wanting to penetrate. You need to start by asking yourself
How your customers currently purchase your product.
Are there any trends that you are noticing from your current customer base (eg. interest/attendance from a specific market)
From there, seek ways to utilise other channels to further your reach. Do you have a big gap in the international market (can your product be available for those who don't speak English?) If the answer to both is yes, reach out to some ITOs or wholesalers.
Maybe you are looking to make some last-minute, low volume bookings. This is where your local retail travel agent is useful. They can arrange same-day bookings for you by recommending your product to travellers wondering how to spend the day. Many tours and attractions offer famil, which is free of charge experiences extended to retail agents to understand your product. This way, they can have a deeper knowledge of what you offer and allows them to confidently sell to travellers.
Keep in mind that costs will be incurred from using distributors. Don't forget, there are guidelines for the rates you should expect, these industry standards are helpful to refer to when establishing a partnership.
Some of the main benefits that distributors provide you (other than increased bookings) include:
Increased exposure but less spending on marketing
Topping up occupancy on your tours
Your business is related to the trusted and reputable, globally-recognised names
Don't forget that the distributor you're seeking to work with will research you too. So you need to make sure EVERYTHING is up-to-date and accurate. You can start this by refreshing your website, reviewing any online comments and updating your social media accounts. If you have any printed brochures or advertisements, double-check their accuracy against anything that could have changed in the course of your business.
Final thoughts
Some businesses feel that the commission costs are too high to work with a distributor, however if you incorporate this as a marketing expense and one that you only pay when you get a sale, it can work out to be an extremely cost effective way to break into new markets. If you think about putting a large amount of marketing dollars to open up one market, for example the UK market, then your return on investment can be unpredictable & only target the FIT traveller. There are very few disadvantages to partnering with distributors. Expedia's research found that your direct bookings may actually increase after association with distribution, as many use brochures or online sites to browse options before booking directly with you.