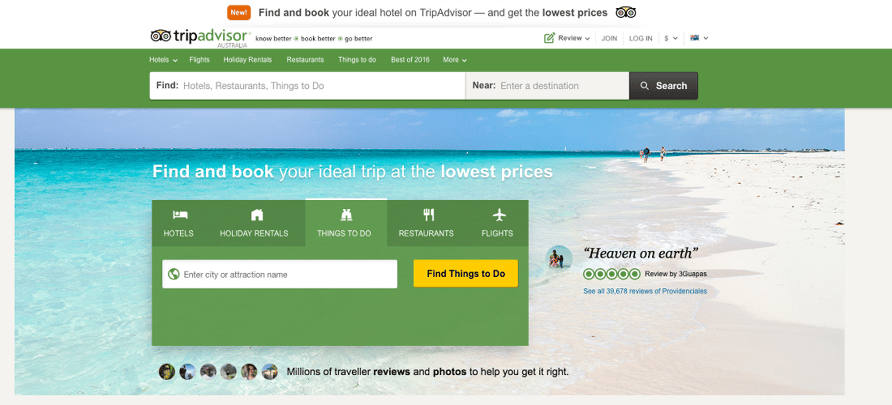 The tourism industry's largest travel and review site TripAdvisor, has put tour and attractions at the forefront of its latest website redesign. It's a sure sign the travel giant understands just how important experiences are becoming, especially to the millennial traveller.
It's been found that a staggering 78% of this social media savvy generation spends their money on an experience or event over buying a material good.
TripAdvisor has now added tours and attractions, in the form of a Things to do tab, on the homepage. According to Tnooz, the move to feature tours and attractions came after bookings through the site in this sector had increased by an astonishing 150% in the first eight months of 2016.
So how does the new function work?
Users simply enter the travel location they're visiting and they will be offered up a selection of top-notch attractions, tours and activities at their destination.

TripAdvisor also made significant changes to enhance the appearance of products. For instance:
Attraction and tour product pages have been updated to provide an overview of all of the option available in an area. It also now includes filters to enable a user to narrow down their preferences.


You can now view videos of the experience to give you a sneak preview of what the tour or attraction has to offer.


Location-based searches means travellers can pinpoint tours and attractions that are closest to their hotel, airport or a landmark. Again, enhancing the user's experience with the site.


TripAdvisor will now also accept Viator discount codes on the website. TripAdvisor acquired Viator for US$200m in mid 2014.
TripAdvisor's vice president of product for attractions Jeff Chow, said the tours and attractions industry's move toward adopting digital and mobile ways to consume and book travel, has enabled amazing progress in the industry. He said the company's goal was to provide travellers with a one stop shop to deliver local travel experiences, that are instantly bookable by users on smartphone, tablet or desktop, through TripAdvisor.
The website's Things to do listings have grown by 63% in the past eight months - and Booking Boss has been a part of that. Booking Boss has a number of distribution channels, one of which is Viator, which feeds into TripAdvisor.
What does this mean for your business?
If you want to boost your tour or attraction bookings download our quick-start guide to distribution. It will give you the insight into distribution that you need to take your business to the next level.
Booking Boss is an online booking system for tour operators and attraction providers. Trusted by many in the tourism industry, Booking Boss is about getting you out of the spreadsheets and into the sun. We provide free education resources for operators like you, to make your business the best it can possibly be.