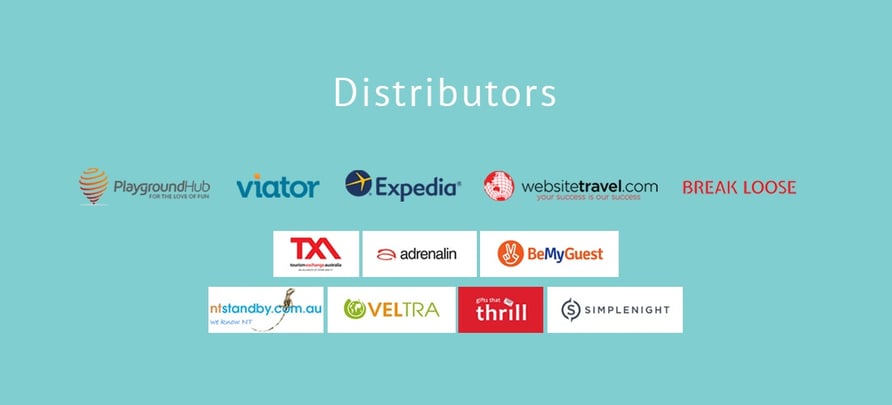 If you're an activity or tour operator looking to up the ante by connecting with an online booking system, you're in the right spot.
Signing up to an online booking system will bring your operation many benefits, but with quite a few options to pick from on the market, how do you know which one to go for? What separates a good booking system from a mediocre to not-so-good booking system?
There are many key factors to determine your choice. Today let's look at a deciding factor that should be close to the top of your list: what distribution partners does the system link in with? Why does it matter?
A great online booking system should link in with a generous amount of distribution channels such as:
Your own website

Online travel agencies - Expedia, Wotif

Wholesalers

Visitor information centres

Concierge services - local bed and breakfast

Government tourism sites - Australia.com, TravelNT.com

Review Websites - Tripadvisor

Voucher sites - Scoopon
Here's a closer look at three reasons why you should pick a booking system that integrates with many distribution channels.
Reason 1: Exposure
The booking system you'll settle on should be able to showcase your product to a larger audience. A booking system can help you achieve this, but you won't get anywhere with a booking system that only plugs into one distribution channel. The more the merrier, which means more exposure opportunity for your offering. Of course, more exposure leads to some incredible revenue opportunities, and who doesn't want that?
Reason 2: Skyrocket sales and bookings in advance (and at the last minute)
A great online booking system will feed your real-time tour and activity availability and pricing to the distributor. This means customers have the ability to book your tours in advance (a major bonus) but there's also the opportunity to nab a last-minute sale. You're in control. You determine the availability and the cost.
Here's an example. A traveller's just got into town. They're not sure what to do tomorrow. They head to the concierge desk to ask what's available for tomorrow. All the concierge has to do is log onto their system to see you still have a spot on your tour left for tomorrow and book the traveller in, right then and there. No need to call or email. Bonus!
Reason 3: Convenience
The third reason why hooking into a bunch of different distribution options should be at the the top of your priority list, is the convenience it offers. Not only for yourself, but also to the distributor and the traveller.
For you, it means a lot less paperwork and admin surrounding which accounts you need to follow up with and pay commission to. You also only have to update your live-cost and availability details in the one location. No calls. No emails. No logging in to five different websites and updating your availability manually.
For the distributor, they already know when you have availability and the cost of your tour.
For the travellers, there's nothing more convenient than knowing when and how much a tour is, then clicking a conveniently placed 'book now' button and locking in the dates.
Final thoughts
Moving to a booking system for your tour or attraction businesses isn't a decision to take lightly. It's an investment. And it can be a costly one if you don't make the right choice from the get go. Distribution channels are just one of the major considerations you need to factor in before you sign up to any booking system.
Booking Boss is an all-inclusive booking system that helps you grow your tour and activity business. We streamline everything in one, easy to use system, that helps you take more bookings, make more sales, expand your footprint, and reduce your admin workload.
We plug into many different distribution channels, including well-known and world-wide travel agencies. Recently we announced our strategic alliance with tourism industry giant Expedia.
We have further strategic alliances with other well known distribution partners including:
Are distribution channels and partners a big consideration factor for you? Let us know in the comments below.
Booking Boss is an online booking system for tour operators and attraction providers. Trusted by many in the tourism industry, Booking Boss is about getting you out of the spreadsheets and into the sun. We provide free education resources for operators like you, to make your business the best it can possibly be.