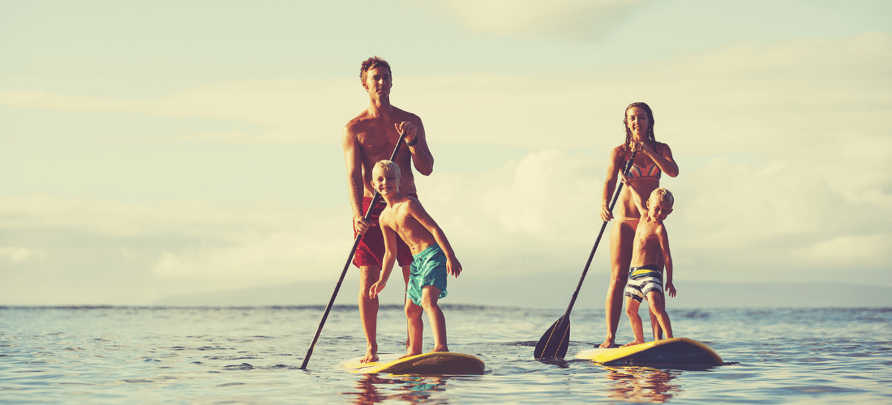 As the hint of spring warms the air, we are reminded that: 'Bugger, it's September already!' That means that in a few weeks the final school bell will put an end to term 3. School's out, let the fun begin.
Many of you may have excellent activities planned to catch families wanting to have fun in the delicious spring-time weather, but if the time has flown and you're wondering how to attract some last-minute school holiday bookings, relax, we've got 5 very simple ways to ensure that your attraction appeals to the school holiday crowd.
1. Highlight your kid-friendliness
You don't need to go overboard and be Clownface McGee the kiddliest attraction in Funsville. It's not only overkill, it may scare off other key demographics, who do not want to sign up for a child-heavy experience. (Or, who might be terrified of clowns).
You really don't need to change your branding to entice families, but what you can do is clearly demonstrate how your attraction happily accommodates and welcomes families. This might sound obvious, but many parents feel vulnerable taking their children to places where they may attract the contempt of fellow travellers wanting to enjoy their childfree lifestyles.
Include things on your website, social media or distribution channel like:
Amenities that may appeal to families (like parent rooms)
How your equipment meets local safety laws
How old you need to be to enjoy the experience
Why kids love it (some great reviews from families, or local award can work a treat here).
The best thing about highlighting your great qualities, is that you don't have to spend any money in making your offer more kid-friendly. You are just drawing attention to attributes that already make your business fantastic.
2. Offer value
Traveller.com.au states that cost is one of the biggest factors in holiday decision-making. Australian families are looking for real value in their holidays, so offer a great deal. A great way to do this is partnering up with restaurants, hotels and transportation services to offer discounts and specials. It's not just about offering value in the financial sense, but also allowing your customers to kill two birds with one stone and make booking a whole holiday experience super easy.
3. Be aspirational
Destination NSW discovered that one of the most powerful pulls on a prospective customer was to promote the idea of 'family re-connections' in their material. They suggest that it's about highlighting that there 'can be intangible benefits of a family holiday such as tapping into the emotions of reconnecting.' Think about how your experience might offer this. Is it challenging? Exciting? Educational? Highlight the emotions your experience might evoke through powerful imagery in your advertising and social media.
4. Create relationships with social media influencers and industry boards
A great way to evoke these feelings is to create relationships with social media influencers. Social media influencers and bloggers are fast becoming the new celebrity of the noughties. A Nielsen online survey discovered that more than '66% people inherently trust opinions online second only to people they actually know.' Do some research and find out who may be a good fit for your brand and invite them for a visit or famil. They don't have to be Kim K famous either. There could be a mum in your region who has an enormous sway with her community or a dad whose schtick is posting hilarious pics of his kids.
It's also a great idea to nurture relationships with local and state tourism boards such as Destination NSW. These organisations have massive databases and can give your business significant reach.
5. Accommodate the whole family
Tourism Intelligence International has cited multi-generational travel as one of the biggest travel trends for 2016. Yep, granny, grandpa and aunty Sue are packing their bags and tagging along. In fact, the report found that 40% of those surveyed have taken a multi-generational holiday. If your experience has something that will delight the WHOLE family then advertise it. Given what Destination NSW has said about the desire for connection, ensure that your marketing and social media actively demonstrates how your experience will create that connection for the entire family. Showing extended family fun may also subconsciously reassure members who feel anxious that a multi-generational vacation could be… fraught...
We hope that the above tips give you some great ideas to ensure that your September holidays are busy and your attraction is filled with happy families. If you would like to know more about how to get more bookings, you should check-out this nifty guide on distribution in tourism.
Booking Boss is an online booking system for tour operators and attraction providers. Trusted by many in the tourism industry, Booking Boss is about getting you out of the spreadsheets and into the sun. We provide free education resources for operators like you, to make your business the best it can possibly be.