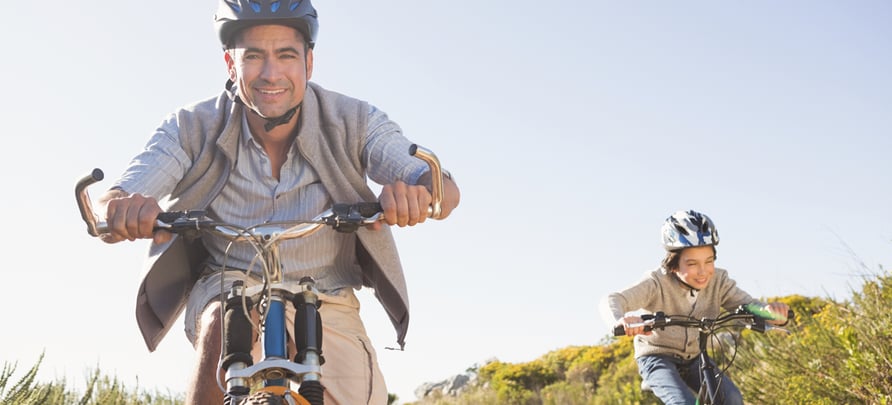 Father's Day: A time when we traditionally honour our dads with burnt brekkie and a poorly wrapped undie/sock combo. As much as dads appreciate the last-minute result of your panicked dash to whatever store was open on Saturday afternoon, technology has made grabbing your dad a last-minute gift much more impressive.
However, while a few errant children out there may save their shopping to the twenty-third hour, the reality is businesses need to be thinking about their Father's' Day offerings well before September comes around.
The good news for tour operators is that givers are buying more experience-based gifts. An Amex gift card survey found that out of those asked 30% would be giving an experience (compared to 23% the previous year.)
The not-so-good news is that you are not only competing with other tour operators, you are competing with any company that can provide a great Father's' Day pressie, be it a robot coffee maker, a book of dad jokes or a nice lunch out. That's why you have to make sure that your offering shines like a beacon of light to worried gift-hunters. Here are three ideas to help you make the most of the opportunity.
Get in early
As mentioned, while there might be a few people madly purchasing dad a gift on Sunday morning before swinging around for lunch, their intentions are much more noble, it is estimated that customers are looking at offerings several months in advance.
Therefore, it is critical to ensure that your campaign launches months before the big day so that you are first in mind when people think: 'That's right! It's Father's Day soon!!' Follow this up with regular content to keep your business front of mind.
A fantastic example of this is the Adrenalin website. As early as July you can click onto their home-page and find activities straight-away that dad may love: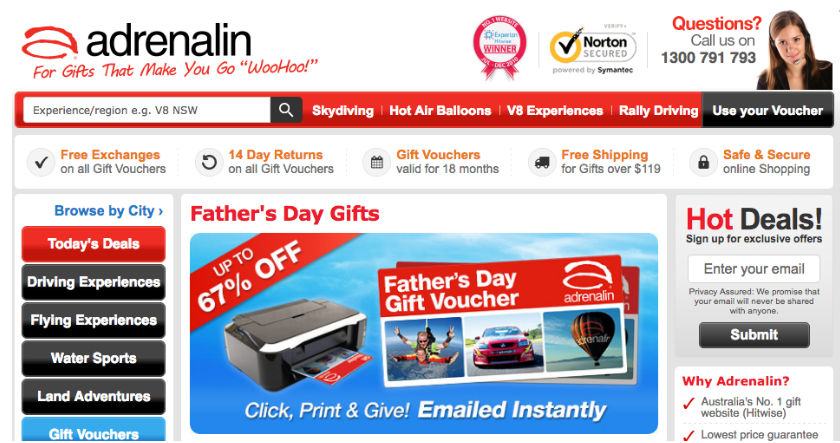 This brings us to our next point:
Offer something a little special
If you've gone to the effort of getting someone's attention, make it worth their while.
Broaden your experience to something that's exclusive for dad. It could be anything really:
Or you could do a combination of all three. Don't be afraid to change it up either. Offering new and creative packages keeps your offering fresh and will draw attention.
Partner Up
Don't just stick to your subscribers, or host your special on your website. One of the best ways to get exposure is to partner-up. It could be:
Local or state tourism organisations:
Well-known parenting sites:
Other products or experiences
For example if you run an Outback adventure tour, you may like to partner with a local restaurant, so whoever signs up for your tour gets a discounted meal after. If you run a golfing workshop, you could partner with the local clubhouse and offer a free golf-ball with the tour.
The only rules are to make sure that the partnership is a good fit with your business. Other than that be creative.
Spoil dad!
We hope that these ideas will have inspired you to get creative with your offering this Father's Day. If you would like more tips on how to boost business, you can download our guide: Make the most of the low season today!
Booking Boss is an online booking system for tour operators and attraction providers. Trusted by many in the tourism industry, Booking Boss is about getting you out of the spreadsheets and into the sun. We provide free education resources for operators like you, to make your business the best it can possibly be.