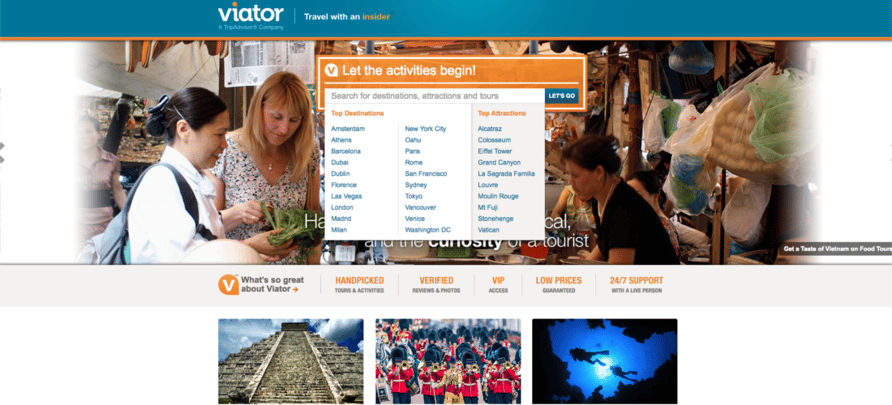 Travel marketplaces and online booking systems are like vegemite and cheese (or peanut butter and jelly for our non-Australian friends and customers) - you just won't get the full experience if you have one without the other.
Having a solid understanding of online travel marketplaces is vital when you consider taking on an online booking system, as it will enable you to make the best choice for your attraction, tour or activity business. Let's take a closer look at what a travel marketplace is, how online booking systems like Booking Boss fits into them and what your job as an operator is when interacting with marketplaces.
What is a tours and activities travel marketplace?
A tour and activities marketplace is an online platform that stores and advertises numerous travel products to consumers. These businesses join the marketplace through a contract, which guarantees that their tour or activity will be advertised to travellers who visit the website. Often tour and activities will appear next to competing tours in the one destination. Viator is an example of an online travel marketplace working on a global level. Platforms like these hold tour and activity options in the one place for potential customers to compare their options in similar destinations. They also enable greater exposure for different businesses who want to advertise their tours and activities on a wider scale.
A marketplace is not…
…going to reduce your responsibilities. The belief is often that marketplaces will make life easier for you as an individual operator, which is only true in some rare cases. Marketplaces increase your offering's exposure and can increase bookings, however they are not an all-in-one solution to all your marketing woes. They do not directly connect into traditional trades such as inbound tour operators or wholesalers systems. They also won't automatically link your business to all online travel agencies such as Viator, Expedia, Livn etc, and they are not channel managers. These aspects of your business need to be considered separately to find a solution that best meets your requirements.
Distributors
Understanding distribution and software systems is important when learning about marketplaces. Each distributor works differently. Selecting a booking system that has strategic alliances with distributors can be good for connections, but you must remember that these are all individual companies that work in different ways, and therefore must be contracted separately.
Plus, don't forget to continue to make personal connections. While website contact forms are convenient, they are not the best way to build real relationships with potentially vital long-term business partners. After all, the tourism industry is first and foremost a 'people business'. You can meet these companies at events such as Australian Tourism Exchange (ATE), ITB Berlin, IPW USA, and on individually organised sales trips. Building a close relationship with your distributors will help you gain a greater understanding of distribution and marketplaces. Getting to know them personally is a big advantage.
Online booking systems and travel marketplaces
Understanding the relationship between an online booking system and travel marketplace is key to seeing how they work together. An online travel marketplace enables you to advertise and sell your offering to a much wider audience. The online booking system ensures that your capacity is updated in real-time, which makes it much easier for travellers to plan and organise their trips. A great online booking system will also funnel all of your orders in and help you manage the guests by sending instant confirmations and asking pre-screening questions.
Why Booking Boss does not run an online travel marketplace
At Booking Boss, we do not have our own marketplace. Some of our competitors do, but we have chosen a different path.
Here's why:
Booking Boss doesn't want to compete with distributors. Instead, we are focused on being the best possible reservations system and are always improving and innovating our software. This makes us competitive neutral; we do not favour any distributor over another and are constantly growing our distribution partner network to provide our clients with more distribution opportunities. We feel that we'd limit our client's growth potential if we were their single distributor. This understanding puts more on offer for our clients, and keeps us clearly separate from the distributors we wish to support.
Final thoughts
Marketplaces are separate from online booking systems. Investing in software that has its own marketplace is no more strategic or beneficial than signing with one that does not have a marketplace.
Marketplaces are important to consider alongside different distributors, and how these distributors work individually. Although marketplaces are there to help sell your product and give it greater visibility, they cannot do all the work for you.
To learn more about working with distributors check out our Quick-start guide to distribution in tourism. Download it today!
Booking Boss is an online booking system for tour operators and attraction providers. Trusted by many in the tourism industry, Booking Boss is about getting you out of the spreadsheets and into the sun. We provide free education resources for operators like you, to make your business the best it can possibly be.