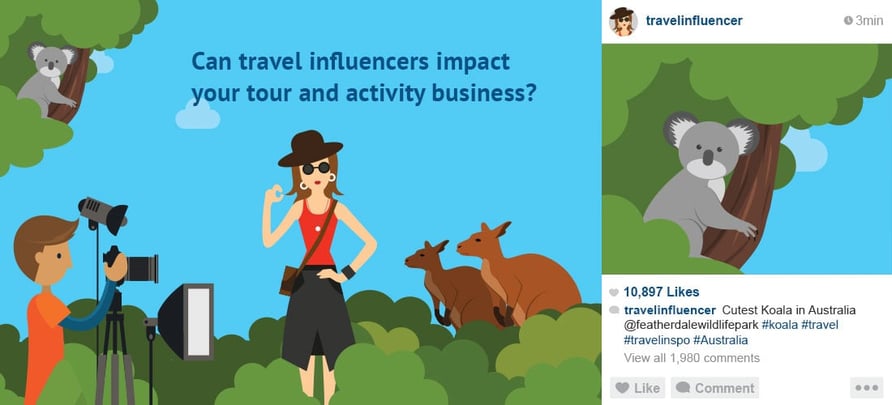 What drives travellers to book specific destinations, in specific hotels, on that exact tour and then at that attraction? These days it's more than safe to say the internet is playing a role. And a significant one at that thanks to influencers in travel.
The influence the Internet has on the travel industry is astronomical. From celebrities gloating about their tropical vacations in the Bahamas to your high school friend's Snapchat story about their trip to South America - travel has never been more in our face. Or better yet, in our potential customer's faces.
This is a form of the social influence. The influence travellers' blogging and use of social media to tell their travel stories is having on other travellers is immense. A staggering 74% of travellers got their travel ideas from social media last year. The amount of research travellers are doing online before booking flights, hotels, tours or activities has skyrocketed. More than 148.3 million people use the internet to make reservations for their accommodation alone. That's over 57% of all travel reservations each year.
In this blog we take a deeper look into the influence in travel through blogging and social media is having on the tour and attraction sector, and how you can tap into the market and boost your tour and activity offering.
What is travel blogging?
Traditionally travel blogging consisted of travellers keeping journals of their holiday at home and abroad. The first travel blog known to the internet was created 22 years ago, on a HP laptop run on A4 batteries. It took 14 hours and a team of experts to send one image from Southeast Asia to North America. The first blog was by veteran travel journalist Jeff Greenwald, who had set off on a worldwide adventure to write a book about his adventures via sea and land. No planes. His first post One Hundred Nanoseconds of Solitude was published on January 6, 1994. Jeff had thousands of readers back then (which is huge if you think about it!). At the time, he and his publishers had no idea their travel blogging experiment —the name 'blog' didn't exist until 1999 —would turn into a "worldwide obsession".

But it has. Type 'travel blog' into Google and you'll be showing an unfathomable 399,000,000 results. As with all forms of evolution things change and grow, the travel blogging sphere is far different here in 2016 than it was in 1994. Nowadays things are changing - it's not just on personal websites where travel 'logs' exist. Social media is exploding with incredible travel content.

Popular platforms influential travel bloggers are posting desire-driving content on include:
Facebook
Youtube (Travel Vlogs aka video logs)
Instagram
Snapchat
Tumblr
Twitter
Podcasts
Forums such as Reddit
Who travel blogs?
Anyone. And they have all different reasons. 9-5ers looking to escape the daily drag. Teens with wealthy parents. Celebrities. Students on exchange. English teachers. Expats living abroad. Models. Foodies. Linguists. Grey Nomads. Vegans. Honestly, you can find a multitude of people with all different backgrounds posting about different travel adventures and niches. It's not just about the destination, it's about what is done there. From the food they eat, to going off the beaten track, whatever makes their story more unique they will tell it.

But just because someone has a travel blog, doesn't mean they have an influence over anyone's decision making. Let's take a look at a few travellers who are considered travel influencers.
3 travel influencers from around the globe
This list is by no means a comprehensive, but highlights the most influential travel bloggers in 2016. We're trying to showcase how diverse travel influencers can be when it comes to target market and platform. Before we start, what does it mean to be an influencer?

An influencer has a loud voice, substantial reach, and a significant network, including followers, readers, or viewers. He or she has the ability to sway opinions of a specific audience by association. - Simply Measured
In the travel world there is: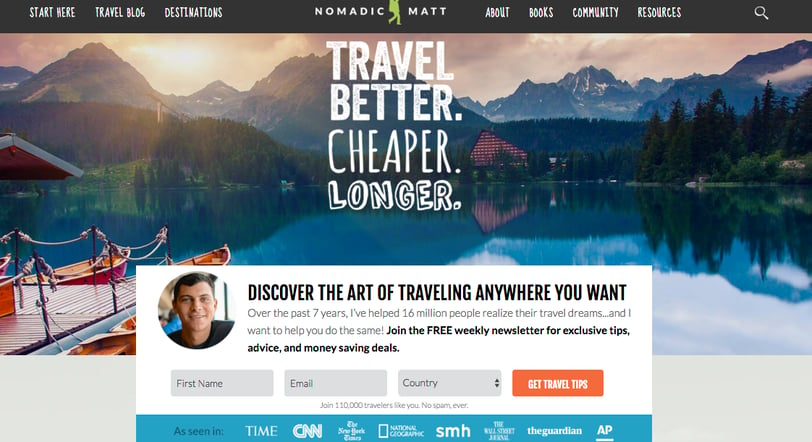 Is an American travel blogger who has been travelling the world since 2006. He quit his 9-5 cubicle job and left for adventure. He is a New York Times best selling author and makes money from his blogging business, a hostel he owns and various other projects. He spends his days teaching his loyal fanbase tips on how to travel on the cheap!
Facebook: 114,653 fans
Twitter: 98,000+ followers
Instagram: 41.4k followers
Nomadic Matt has a strong following of people who want to travel but aren't sure how to do it cheaply for an extended period of time - people wanting to escape the 9-5 just like he did have a strong affinity with him.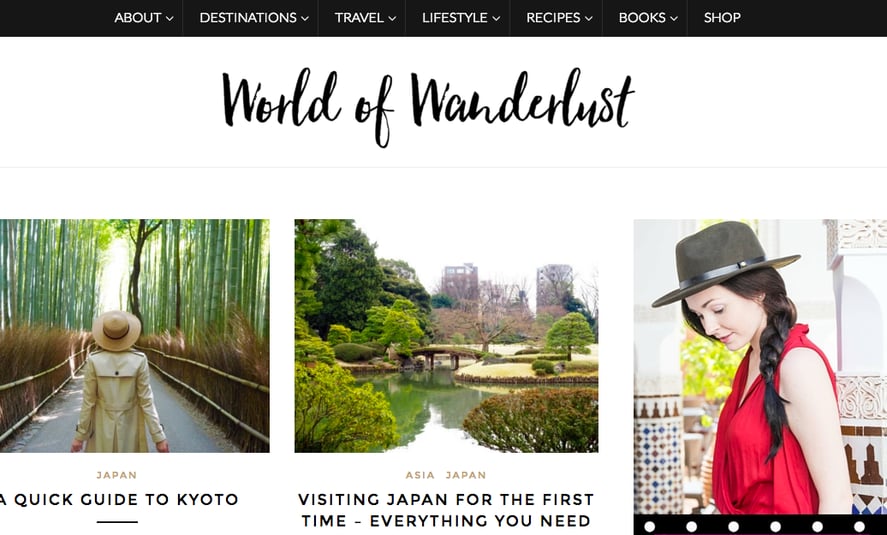 Is a travel blog is run by Australian Brooke Saward. She started travel blogging as a hobby but her way with words, eye-envy photography skills and passion for solo travel quickly made her stand out amongst the crowd.
Facebook: 347, 683
Twitter: 23,600 followers
Instagram: 401,000 followers
Youtube: 24,132
With her incredibly large fan base, Seward has built up years of trust with her honest reviews on locations, hotels and attractions. She's also created city guides to help her fans navigate their way around new cities. She's highly influential, but possibly not for the long-term traveller. Her images create a sense of desire for those once-a-year overseas holidays. Some could consider her a luxury travel influencer! Others not so much.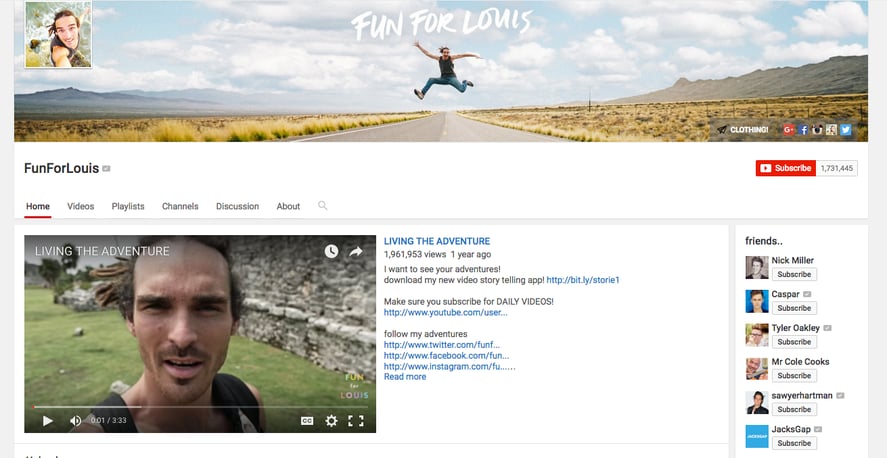 Is a Youtube channel run by British adventurer and traveller Louis Coles. He posts daily travel adventure videos and has an incredibly large following on social media.
Youtube subscribers: 1,727, 854
Instagram: 1.3 million
Twitter: 786,000
Facebook: 386, 218
Coles has a strong following of people interested in his antics while adventuring. His following is diverse, but he appeals to young adult travellers more than middle age or older generations. He also very much about showing off the natural beauty of destinations, rather than material goods like luxury hotels and first class flights.
What impact do travel influencers have on the tour and attraction industry? Why do they have this impact?
Social media and online reviews are the digital version word of mouth recommendations. Because of this, travel influencers are having a great impact on the tourism industry as a whole. This is because they truly have the ability to sway an option. But to understand how a travel influencer actually influences other travellers, we need to understand the traveller's path to purchase.

According to Mytravelresearch.com the traveller's path to purchase looks like this:

Dreaming: Thinking about holidays and starting to consider where to go.


Trigger: Something happens, and the traveller starts to book. It could be that the traveller has annual leave coming up, or it could be the traveller scrolling through instagram and spots a stunning place that peaks their interest.


Planning: This is where the traveller starts collecting information, asking around for recommendations, there's a strong possibility they're doing the majority of this online. It might be reviews on Tripadvisor or just by Googling simple things like "How do I get from Narita airport to Shinjuku station?".


Booking: Either the traveller is creating their own itineraries and booking them. Or they're booking onto pre-made tours like Intrepid or Top Decks. They might also be using a physical travel agent.


Anticipating: Getting ready to go and counting down, Mytravelresearch.com.au says this can be exciting but also scary for the traveller.


En route: Off the traveller goes! They're on their way to the destination.


Destination: The traveller is successfully on holiday. They might be taking a few snaps and keeping a physical or online diary of their trip.


Post-holiday sharing: Back to reality but sharing memories and stories with friends, family and very much letting the world know what they did on social media.
By taking into account the traveller's buyer's journey you can see social media influencers have a big role in the dreaming, trigger, planning and potentially the booking stage. Travel influencers appear to provide unbiased, honest reviews about everything from food, locations, attractions, tours and activities, and travellers trust them.

The best part about travel influencers for the most part is they're relatable. They are not supermodels and Hollywood stars. They're fun, adventurous, regular people who are doing what the traveller is dreaming of doing at that moment.

The influencer is also showing real images at the real locations, giving the traveller a sneak peek! And the content they produce has valuable information that makes a traveller's planning stage a lot easier — it removes the fear of the unknown. Often posts will recommend where to stay, eat, party and explore. Their content answers questions a traveller might have such as, is it worth the money? Is it dangerous? Am I going to enjoy myself? What can I expect to see? Is this the right company? What do I do once I get there? Should I do this or should I do that?
Working with travel influencers
Last year a study by Tomoson found almost 60% of marketers were planning to increase their influencer marketing budget. It isn't by luck that travel influencers are always travelling. Someone has to pay for their travels. Some travel influencers create and sell ebooks and courses teaching people a skill. But when it comes down to it partnership and sponsorship with companies also brings in a steady amount of revenue for influencers.

Marketers around the world have been working with influencers for a number of years, but it's still a relatively 'unknown' area. Especially when it comes to industry standards surrounding payment and contracts. Some travel influencers will accept a free ticket or pass to your attraction or tour, with the promise of writing blogs, producing vlogs and a certain amount of social media postings. Others will require a payment on top of that - which is understandable - how can they pay the bills if they're only getting free tickets to attractions?

Saward, from World of Wanderlust, works with various brands including travel companies, travel websites, technology companies and airlines.
Here are some of the latest responses to Saward's collaboration video with Kayak: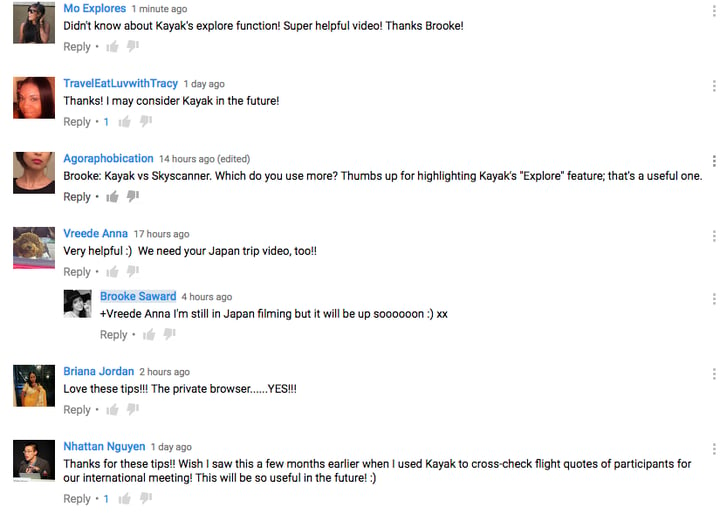 Should tour or attraction businesses work with travel influencers?
Working with travel influencers should be entirely dependant on your marketing goals. Influencers can have a massive impact on your brand awareness, credibility and bookings, if you have a strategic plan in place. And the statistics prove it, according to Burst Media, in 2014 marketers who implemented an Influencer Marketing program received $6.85 in earned media value for every $1.00 of paid media value .

What's important to understand is you're not paying the influencer for their review, you're paying them to have access to their loyal and engaged following to gain earned media.

Working with influencers can absolutely be worth it, but picking someone out of a hat because you like their Instagram feed isn't the way to go about it.
How tour and attraction businesses can work with travel industry influencers
To work with travel influencers you need to create a mutual partnership. To give you an idea of how to do this, there are some steps below that you could take. But it's very important to remember that travel influencers are real people, and you will need to prove your offering is relevant to their audience and also authentic.
Identify travel industry influencers
For an effective partnership, you need to work with influencers who reach your business' target market. Here you need to identify if the influencer has a reach that is big enough, and relevant enough, to resonate with your target. This doesn't just mean follower counts. It means finding the followers locations, demographics, interests and how engaged they are with the influencer. It's better to engage with a travel influencer that has higher engagement, and a smaller following than the other way around - quality over quantity! A lot of this information will need to be sourced directly from the influencer or by using products such as BuzzSumo or Mention.
How do you find influencers?
Listen: You might already have influencers talking about your brand, or your competitor's brands. Look out for mentions on social media. But also look at relevant hashtags being used by people about your industry. You can monitor this with tools such as SproutSocial and HootSuite.


Google alerts/search: Research bloggers and vloggers with a simple Google search.


Influencer networks/talent agencies: Influencer agencies can help match the right people to your brand, if you know what you're looking for and what you want to achieve. MODA Creative and The Remarkables Group are just two of a growing sector influencer talent agencies. It's important to note, not all of these influencers are full time travel bloggers. Some of them are fashion, food and mummy bloggers etc. But their followers might still be in your target market - you shouldn't only consider travel bloggers as having the best audience to showcase your tour or attraction to.
Once you've identified them you should list them and note what type of content they produce and what angles they usually take. All of this gives you a much bigger picture of the influencer and will make it easier to reach out if you see an opportunity.
Find out what social channels they use
Now you know who some of the top influencers for your target market are, you want to research what social media channels are working best for them and producing the most follower engagement. Are videos more effective than blogs? Are Instagram posts getting the most traction? Do you research and work out if your target market is actually there and interacting positively with the content.
Work out what part of your strategy the travel industry influencer could play a role in
Now the list has been narrowed to influencers and you know where they're most active and effective on social, it's time to start thinking of some collaborative ideas. Giving free tickets and asking the influencer to post an Instagram post might work to start a partnership with an influencer. But it probably won't. Especially if you're aiming to spark a relationship with an experienced influencer who possibly has 200+ companies contacting them per day.

Influencers understand the value of their audience to businesses like yours. If the influencer produces content that is deceptive or untrue, they will lose their reputation. And that's what their entire business is built on. Influencers are only going to work with business they trust, who will provide something of use to their audience, and who are authentic. So before making any kind of contact with an agency or directly with an influencer you need to think long and hard about how a partnership may work and why it's beneficial for the influencer's followers.

It's important to consider 'travel influencer A' might be more effective for your brand awareness campaign. And 'travel influencer B' might be better at boosting bookings because their audience loves a discount coupon code.
How to connect with travel influencers
Before connecting with a travel influencer, or any influencer, do your research. Look at their website or social media pages and see if they have a work with me page or a business email contact.

If you cannot find anything the best idea is to send an email. If they have representation they will likely ask you to contact them through that channel. It's also possible to connect via social if that's where they're most active, but 99% of the time there will be an email. Do not skip point 3 before making contact!

Other ways to reach out to influencers is through your local tourism authority. All tour and activity operators should have a strong relationship with their tourism boards. Not only is it great for exposure and networking, but tourism boards are well aware of influencers and often speak with local tour and attractions to host influences on famils.
If you're in business
If an influencer or their agent sees an opportunity the relationship will progress to idea creation and of course, contracts and payment.

As mentioned, cost depends on many factors. Followers, reach, commissions, amount of posts etc. They're are extremely varied and can range from $100 for an Instagram photo mentioning your brand to $8000. Some influencers will give you a breakdown of the cost but one thing is, pricing should agreed on before any campaign is started to reduce the chance of any unexpected surprises.
Measuring and reviewing your efforts
As with absolutely any kind of marketing effort you must have goals to measure towards. Without goals there's no way to know if money was spent in the right place and if it's an effective strategy for next time. Coupon codes are the easiest way to measure if your travel influencer had any effect on boosting your bookings. And social media traction is a great tell tail for brand awareness and increase. Planning how you will measure your efforts in advance will mean you have a much higher chance of following through!
Final thoughts
Travel industry influencers, whether they're bloggers, vloggers, Instafamous, SnapChatters or Tweeters, impact tour and activity operators, as well as the tourism industry as a whole. Their honest reviews and recommendations have the potential to sway at least four steps in the traveler's path to purchase. Remember, working with influencers can be a good way to boost your business, but it requires strategic thinking and planning to make sure you're influencer has the right target market for your offering.
Curious about how to best distribute your tour, activity or attraction? Check our Quick-start Guide to Distribution in Tourism.
Has your business worked with an influencer? Tell us your story (good or bad) in the comments below.
Booking Boss is an online booking system for tour operators and attraction providers. Trusted by many in the tourism industry, Booking Boss is about getting you out of the spreadsheets and into the sun. We provide free education resources for operators like you, to make your business the best it can possibly be.