My Travel innovation Summit Experience @ PhocusWright LA 2014
Every year Andy and I start a business-coaching program in late January. As part of this we set our KPIs for the program and that year. We usually bite off more than we can chew and chew like crazy and 2014 has been no different.
So when I reflected on what I wanted to achieve earlier this year both personally and professionally - public speaking came up. Public speaking is one of those things I have never been that fond of. In saying this I felt that I should be out there more speaking about Booking Boss! So I created a KPI to speak in front of 200 people by the end of the year.
As our coaching program progressed I choose to request that the public speaking KPI be reviewed and I deleted it altogether replacing it with something I felt would serve the business better. Well I don't know if you have ever gone through the process of setting KPIs? But once you put them out into the universe they seem to take on a life of their own.
While all this was happening, two separate people (people I greatly admire in travel) recommend I present at PhoCusWright this year. I was well aware of the PhoCusWright Conference. It is THE travel technology conference of the year! The best of the best in the travel industry present, speak and share their knowledge. I smiled politely and never gave it a second thought.
Then a few months later I randomly reached out to another colleague I have always admired but never really got to know and he said words to the effect of....'I have never heard of you, you need to come out of stealth mode and PhoCusWright is the perfect platform. You should apply as an Innovator at PhoCusWright this year.'
Third times a charm so I bit the bullet, honestly thinking there is no chance we would be selected out of the 100's that apply. The application was lengthy and I spent quite a bit of time perfecting our written submission. The next step was a full presentation to a panel about Booking Boss and why we were worthy innovators.
We prepared our deck and I practiced a few times prior to our webinar slot (which was at 1am) Sydney time - yikes! I went through my presentation, was grilled by the selection panel and after an hour and a half our PhoCusWright fate was in their hands. Let the anxious wait begin..... now that I had been convinced by my peers that we needed to be there, I desperately wanted to be there!
The PhoCusWright team put me out of my misery less than a week later to let me know that they loved Booking Boss and what we are doing and YES you have been selected as a PhoCusWright Innovator for 2014! When I got off that phone call I was in shock - then I told the team and we all started jumping around the office - then I got a little overwhelmed and had a cry - then I called my parents and some friends.
Over the top? I was over the moon! The news we had been selected as a PhoCusWright Innovator came one month after we had been awarded Best Software Product of the year 2014 at the Australian Business Awards. Life is good.
Now that we had been selected, my KPI on public speaking was in full swing, this conference had up to 2000 delegates attending and numerous people watching on demand from around the globe. Yikes my 200 KPI turned to thousands overnight, didn't I say we like to bite off more than we can chew.
Luckily, we had plenty of time to prepare and prepare we did. I watched TED talks and past Travel Innovation Summit presentations. I spoke to people who had gone before me to ask about their experience and how they prepared their presentations, I called in an expert team to help pull together the visual presentation and some industry experts to listen to me practice. I practiced in front of my children, the mirror, and colleagues until I was reciting this presentation in my sleep! (And I was!) I had NEVER spoken in front of 2000 odd people before. It had to be good.
Why did I do this?
People were paying good money to be at this conference
After this, everyone who's anyone in travel will know about Booking Boss
Our whole team was behind us and excited
I wanted to prove to myself that I CAN step out of my comfort zone and nail it
I was determined not going to stuff it up!
The lead up to PhoCusWright was intense for our entire team. We were so busy with the day to day running of Booking Boss as well as the pressures of preparing for the PhoCusWright Conference that time flew by and before I knew it - it was the final countdown - 1 week to go!
We arrived in LA couple of days early, settled in and recovered from jet lag just in time for my practice run through. After this we had to make a few final touches and adjustments. The night before the big day we had a speakers briefing and this was the first opportunity I had had to see the stage - wow - I was speechless - it was HUGE and there were a sea of empty chairs waiting for delegates the very next day. It was overwhelming to think we were here and we're going to essentially launch Booking Boss to the best of the travel technology world!
I was third up that morning, Tuesday the 11th of November at 9.35am - I was expecting a wave of panic and extreme nerves but none of these arrived, I was surprisingly calm. I arrived in the green room for roll call and was mic'ed up and ready for my 9.5 minutes on the PhoCusWright stage. Let's do this! I CAN DO THIS!
I hear the conference introduction and welcome and in that moment I also hear that they expect around 7500 people (both there and watching on demand) to tune in! That is awesome; never in my wildest dreams did I think I would ever be capable or get the opportunity to speak for that many people.
I walk back stage, hear my name being announced and then before I know it I am up there on stage in front of what feels like the world and my 9.5 minutes is counting down. One thing I promised myself when I was there on stage was to be in the moment and take it all in and I really did - at times during my talk I looked around at a sea of faces all listening to me and it was quite overwhelming and exhilarating.
I was extremely proud of myself for stepping outside my comfort zone and delivering our presentation well. I felt I had done my team proud and I was happy that there was nothing else I could have done to make it better. There is such complete and utter satisfaction in that.
I walked off that stage and was greeted by Andy (my business partner and husband) who was with me the entire way, Booking Boss is largely his brainchild and we were both really happy with our performance.
We walked down the corridor and I had complete strangers coming up congratulating us and giving us their business cards, this continued on for the entire 3 days and it felt wonderful, people got it - they understood Booking Boss and the opportunity.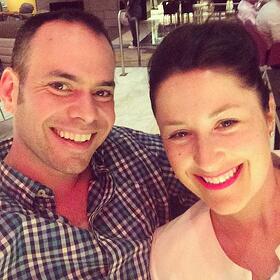 Andy and I - after our presentation (you can see the relief on our faces).
So my advice to other potential Travel Innovation Summiteer's – Go for it! You can do anything you set your mind to, the opportunities after the conference closes are endless but please give it the time and attention it deserves.
You can view our presentation here
To your success!
Booking Boss is an online booking system for tour operators and attraction providers. Trusted by many in the tourism industry, Booking Boss is about getting you out of the spreadsheets and into the sun. We provide free education resources for operators like you, to make your business the best it can possibly be.