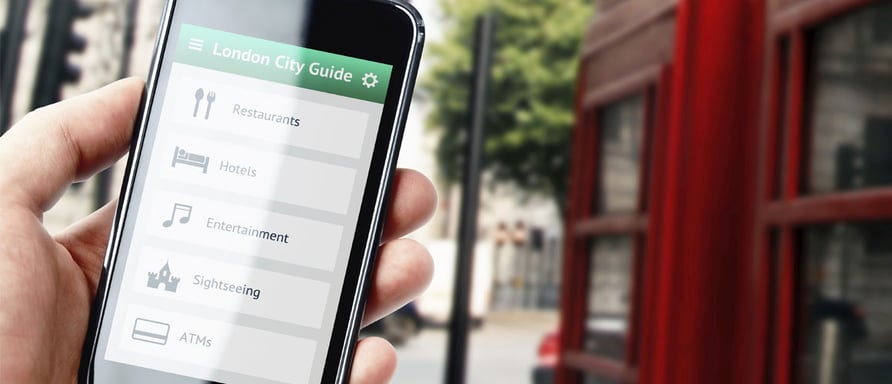 It doesn't seem so very long ago when the world was populated by confused tourists, clutching a map in one hand and scratching their head with the other. But like so many bits of paper, technology has taken its place and transformed the way we interact with the world around us.
This is particularly true of travel. Technology has been a game changer in how we roam the world — and not only when we arrive at our destination, it has a part to play in every step of that journey, from how we research a trip to how we rate it when we're at home reflecting on our experiences.
And an integral piece of technology has been the mobile device. It has enormous capabilities, yet fits right in your pocket. Our entire lives can be kept within its tiny dimensions, giving us immediate access to vital information, so it makes sense that they are the perfect travel accessory. But how do these devices change the consumer journey? How are mobile moments transforming the customer experience? And how can you ensure that your business isn't going to go the way of the paper map?
The Dreaming
We know that technology can be the conduit for some seriously aspirational day-dreaming. Whether you're going on Pinterest, Facebook or Instagram, your feed is going to be bombarded with people doing amazing things in enviable places.
In fact social media is one the most potent influences on people's decision to travel, especially among the younger set. Expedia recently did research into millennial travel behaviour and found that 36% base their travel decisions solely on social media, which would be expected for such a tech savvy generation. Yet, it's not just the younger set who are using their device for destination inspiration.
Google have also released a broader study on mobile behaviour in the consumer journey and found that the people are on their devices at every stage of that journey. They are constantly googling, and looking at YouTube, Google's marketing VP, Lisa Gevelber states: 'in the past year mobile queries within the travel category have increased by more than 50%.'
The Planning
Yet people aren't just looking. Mobile users can quickly turn from dreamers into planners, showing how agile the process of making travel arrangements has become. While the Google study said that people were spending less time on their mobiles (because of the better speed than previous mobile devices and because people use their mobiles to do tasks quickly) in the past year conversion rates have grown 88% on mobile travel sites.
For example a conversion path might look like this: you see a fantastic looking selfie of a friend who visited the Big Banana, something you've always wanted to do. That reminder motivates you to whip out your phone and excitedly google places to stay in Coffs. After reading a few reviews, a cute little BnB fits your needs and a few minutes and several clicks later, you have yourself a reservation to see one of Northern NSW's most beautiful sites.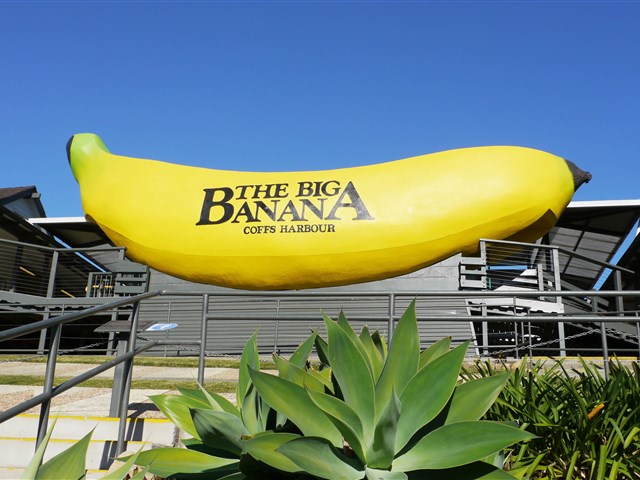 Majestic and packed with potassium
And we are seeing this reflected in all aspects of travel. We now travel with a "backpack of apps" and businesses like Airbnb and TripAdvisor are very easy to access. We can book flights, hotels, shows and tours on a lunch break.
Increasingly, the information we can gather isn't just thorough and accessible, it's also personal. Sites can make recommendations based on our past searches, tastes, budgets and even our locations. These developments help make the consumer feel safer in their decision making process and the anticipation of the trip becomes part of the experience itself.
This is important, because a bad experience is a real fear for prospective travellers. In a digital traveller study, it was found that a third of those interviewed felt that they have regretted a vacation. Given how precious our time is and how expensive an experience can be, anything that will help a customer make an informed, relevant decision will be greatly valued.
The Doing
And when it's time to set off, the mobile will still play a very vital role. Not only will our mobile GPS help to get our bearings, it will also help us ease into our new surroundings. Queries like 'where to eat near me' 'bars near me' restaurants near me' are among the most common searches. They help a traveller visualise how to get around and empower them to get a bit bolder and seek out things to do that are a little further afield.
What's more, mobile devices can help travellers proactively seek out new and exciting experiences. For example as Gevelber mentions a fantastic Airbnb initiative who used their vast network to give audio tours of New York via Google Maps:
"When visitors searched for tourist destinations or things to do in the Times Square area, they were prompted to see New York like a local with a Hosted Walk. The experience used Google Maps and Directions API to direct users to their primary destination, while the Airbnb host's voice chimed in whenever they passed a great local spot along their route."
Instead of running from one sight to the next, travellers could have a unique and authentic experience in one of the most touristy places in the world.
But this development also provides a challenge for tour and attraction operators. If tourists can access this experience at their fingertips, what can the tour operator offer that technology can't?
Savvy operators are quickly realising that it's about combining the best qualities of technology with the elements only humans can provide. Whether that is providing a personal photographer for selfie-loving millennials to document their experiences, or creating a boutique golfing experience for discerning putters, the creative tour operator should be thinking about how mobile can amplify the unique and attractive elements of their business, while also making the process of booking that tour as easy as possible for the prospective traveller.
And this sentiment sums up how mobile has changed the way we travel. We can research and decide so many different elements quickly and thoroughly while we're on the go. We can tailor an experience to suit our budget, tastes and location in a moment. We can roam the globe and all it has to offer on our train-ride home. Our dream holiday is only a few taps away and if you want to ensure that your business doesn't go the way of the maps, then you need to think about how you can get mobile to work for you.
It's important to keep up with the latest changes in travel trends to remain relevant in the very versatile tourism industry. Download Renee Welsh's presentation on "The new type of traveller and its impact on distribution" to learn how new travellers are changing the travel industry and what tour businesses can do to stay on top of it.
Booking Boss is an online booking system for tour operators and attraction providers. Trusted by many in the tourism industry, Booking Boss is about getting you out of the spreadsheets and into the sun. We provide free education resources for operators like you, to make your business the best it can possibly be.