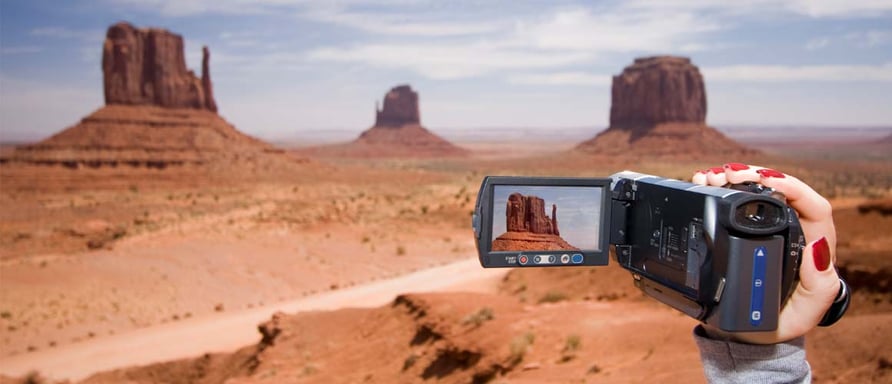 As a channel, video is proving itself to be an extremely popular medium and that's not changing anytime soon.
So why use video marketing? A whopping 64% of customers are more likely to buy a product after they watch a video about it. By 2017 it's forecasted that a total of 69% of all consumer web traffic will actually be attributed to video.
Despite this, video is still grossly underutilised as a content marketing tool to market your business, with only 24% of brands actively using it to market themselves. And only a select few of those are nailing it on social.
The even better news is that video plays right into the hands of tour operators. People want to be inspired and thrilled when they look up travel videos. They're either dreaming of an escape (hands up if you've ever googled flights on a Monday morning… we're guilty), or they're actually planning a trip.
When you couple all of this with the fact that the medium is still widely unused, it's clear that getting your video content onto the screens of your potential customers presents an exciting opportunity for your business.
So, if we agree that adding video to your content marketing mix is a good idea, we could also agree that it can be mind-boggling to know where to start.
Here's a few tips we've picked up on how you can create a great video to market your tour business, without breaking your back or the bank.
Pre-production
First things first, you need to know your audience. Videos are just like any other piece of content you'd produce. Before creation you need to have a clear understanding of your viewers' background, interests and what they're after from your business, to ensure that they convert. Failure to do so can result in an irreversible disconnect between your brand and potential customers.
For example, you don't want to produce an exhilarating, adrenaline-inducing video to represent a leisure cruise for an audience of 40-50 year old comfort-lovers.
To increase your chances of converting leads, keep your buyers' personalities front of mind (ask yourself what are their fears, motivations, what they love about your experience the most). This way, you'll come up with a video concept that is aligned to your customer needs.
TIP: we advise against repeatedly plugging your product, as it may turn customers off. Instead highlight the human aspects of your brand by doing things such as:
Showcasing your team behind the scenes

Happy customers before, during and after a tour

The emotion a tour creates - whether this be tranquility, excitement, or awe
Lights, camera, action
Now to the fun part! Once you've got an idea of the videos you want to produce, it's time to actually start producing them .
The good news is you don't need thousands of dollars worth of filming equipment to produce quality videos. While there's always a time and a place for professional videos, travel content lends itself perfectly to simple filmmaking. We actually think it's all the better for it!
Simple or amateur filming is a great way to capture the experience of your tour offerings as it results in visceral and authentic content that taps into viewers' emotions.
GoPros, drones (they're cheaper than you think), DSLRs, and even smartphones are more than capable of recording quality content. In fact this also extends to apps; Periscope, a producer of live-videos, and Hyperlapse, which can create time-lapses, are two of our all time favs!
To get those creative juices flowing we've found a couple of videos shot on affordable equipment, that are sure to inspire.
This incredible video was shot using a GoPro attached to a drone, while this short doco used several HD HERO3+ cameras to gather material, which was then edited together to show several different points of view - including a Hyena's.
Post-production
And at last we come to editing. There are a host of tools out there that make editing a dream. We've found three apps, that are ridiculously easy to use that are also amongst the best in the field:
iMovie: If you have a Mac computer, chances are you've already got iMovie. As it's designed by Apple it also can be used across iOS devices including iPhones. It's easy to get the hang of, but should you ever find yourself stuck there's a stack of online tutorials to be found.

Videolicious: Is a free iPhone app that is incredible simple to use. Simply select the video and photos you want in order, record your audio and choose your accompanying music. It's perfect for making videos on the fly.

VidTrim Pro: For Android users, there's VidTrim Pro. One of the most popular Android editing tools, this app boasts and easy to use interface that will allow you to trim, merge, add video effects, extract audio (convert to MP3) and finally transcode (compress and convert to MP4) your clips. Phew!
Well that's a wrap folks, we hope we've armed you with enough tips to get you excited about filming.
And remember – to create effective content you have to understand your audience. To discover more about "the new traveller" download Renee Welsh's presentation "The new type of traveller & its impact on distribution."
Booking Boss is an online booking system for tour operators and attraction providers. Trusted by many in the tourism industry, Booking Boss is about getting you out of the spreadsheets and into the sun. We provide free education resources for operators like you, to make your business the best it can possibly be.