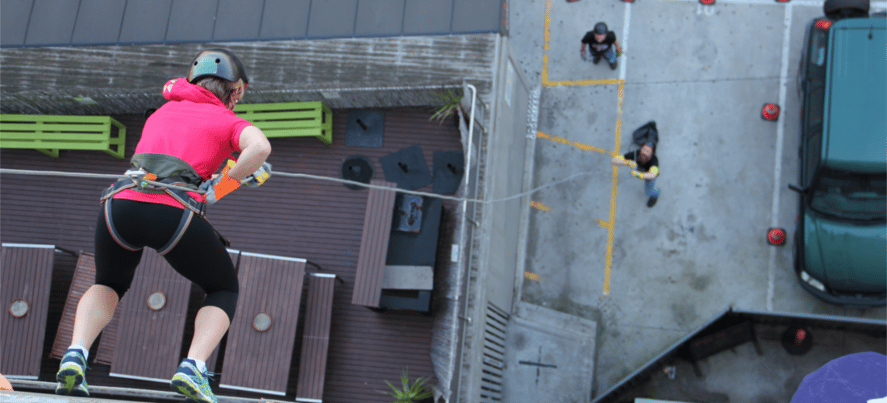 There are many things that must come together to ensure a tour offering's success: A fantastic team, a unique experience and a great distribution channel strategy that helps get you great reach.
Derek Whittingham, Head Instructor at Rap Jumping managed to do all the above. The last time we caught up with Derek, he spoke to us about how he took his business from 'survival to success'.
Having scaled the ranks from junior instructor, to stunt team member, to 2IC, to eventual owner, Derek had an unique insight into the business and had a very clear vision of what he needed to do to ensure that the company fulfilled its inherent potential.
Fast-forward several years and Rap Jumping is going from strength to strength. Not only have they taken their Facebook following from 100 followers to nearly 6000, but they have seen 12% revenue growth on last year and have already smashed their goal for number of jumpers for the year.
There are many reasons for Rap Jumping's success. One of the biggest goals for Derek was to increase awareness for rap jumping as an activity for local and international adrenalin seekers. Originally invented by the the Australian Special Air Service (SAS), the market needed to be educated as to what rap jumping was and what customers could expect from the experience.
Social media played a huge part in achieving this. The Rap Jumping team posts regularly, shares motivational content and encourages jumpers to share pics of the day.
Another component that has contributed to the success of the business is their distribution channel strategy. Derek says: 'Distribution was a godsend. I wouldn't be able to do half the things I am now able to do. It's much easier to manage and run session, reorganise customers and reach people in different places.'
In fact, distribution channels are one of the most important things to consider when looking to increase bookings for your tour or activity. They should be a key feature of your sales strategy.
Below are 3 ways Rap Jumping used distribution channels to attain their success.
Better exposure
As mentioned above, one of Derek's key objectives was to educate the market. Derek wanted to:
Distinguish it from other forms of experience (like abseiling)
Demonstrate how safe (and fun) it is
Emphasise that it's for all ages and all levels of fitness (in fact he recently had a 90-year-old lady do a jump for her birthday. She loved it!)
A key component of broadening this reach was to create a more visible online presence by expanding his distribution channel strategy. With the help of Booking Boss, he got access to many online distribution channels. They went from 3 to over 50. The team also worked hard to form great relationships with offline distributors, such as hotel concierges. Expanding their reach has not only created more bookings for the team, but it has also resulted in a much wider demographics for the team. Derek acknowledges: 'We get all different types of groups through. Businesses on team-building exercises, fitness groups, couples and adrenaline junkies.'
The personal touch
Given that Rap Jumping gets customers from all walks of life, it's really important for the team to be able to tailor their experiences. Working with distribution channels like Adrenaline means the team has all the information the need to easily manage the sessions.
For example, if the team know that they have a fitness group coming in, the team will make the group run up the stairs, rather than using the escalator, and do exercises while other members are going down. Having the access to this kind of information means that Rap Jumping can easily adjust their experience into something very personal and memorable.
Less time on admin more time on the experience
But perhaps one of the best advantages of using distribution channels is that the booking processes become very streamlined. Derek says that: 'Because many of our bookings go through distributors, I don't have to deal with huge amounts of emails. I have all the information in one place. It has made the admin side of the business so much easier to deal with.' This has meant that Derek and his team can concentrate on the more important aspects of the business, continuing to educate the market and exploring new distribution channels, hitting their Facebook target of 10k followers and most importantly continuing to do the thing they love the most: Give their customers an amazing memorable experience.
Would you like to know more about how distribution channels can help you take your business tothe next level? Then you should download our Quick-start guide to distribution in tourism today.
Booking Boss is an online booking system for tour operators and attraction providers. Trusted by many in the tourism industry, Booking Boss is about getting you out of the spreadsheets and into the sun. We provide free education resources for operators like you, to make your business the best it can possibly be.