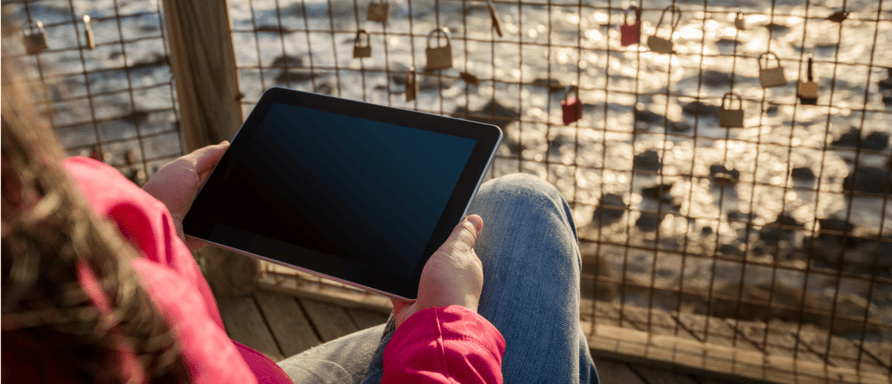 The word 'mobile' denotes such a sense of freedom, you can be completely untethered from the office or home computer and still be fully operational. But as we all know, the ability to be connected in all locations and at all times of the day can be both a blessing and a curse.

Yet for tour operators, mobility is particularly important, because you're not working a typical nine-to-five job. When your office can be anywhere; the beach, the tops of buildings or way up north, then all you need is a device and internet access, so that in your down moments, you can jump onto the more administrative aspects of the job.

Today we look at the software solutions and apps that will help you manage your time and business on the go, by allowing you to do your payroll, secure those bookings and keep on top of your marketing with just a few clicks. No spreadsheets, no paper and no headaches, just some simple solutions that will allow you to concentrate on the more important (and fun) aspects of your business.
Skype
Trying to get all team members in the same room at the same time can feel as impossible as herding spider monkeys, especially if you are spread across the world. This is why teleconferencing systems like Skype are an important tool in the business owner's arsenal. Not only can Skype host conferences across multiple devices but it also:
Provides an excellent user experience
Is very easy to set-up and use
Has real-time content sharing capability
You can switch between calls and message
Plus if you're a small business, it's very inexpensive, you can group call up to 25 participants for free, or up to 250 people for $2.80/user/month.
Booking Boss
Booking Boss is an online booking system that allows a user to streamline scheduling, capacity management and customer service, and more recently Booking Boss Payments, a payment gateway system. Booking Boss understands that their tour operators don't really have time to be mucking around with loads of spreadsheets and have intermittent access to a physical office, so all operators will understand the value of an agile, real-time system. The system:
Allows you to take bookings on your website
Integrates seamlessly with the most popular distributors
Has an easy-to-use process
Speedy ticket processing and standard vouchers
Analytics so you can see where your customers are coming from
24/7 support
The ability to access the platform on multiple devices
The packages start at AUD$44/month and scale depending on your the amount of bookings you take.
Evernote
Have a great idea in the middle of the night but don't have a notepad handy and can't remember it in the morning? This is where Evernote comes in handy. You can quickly jot down that brilliant idea on the phone by your bed before it departs with the morning light and send it onto colleagues. You can also create project timelines, attach pictures and documents and the program will share the information across all your devices, so that you never lose the thread. It's also a very inexpensive program, the most basic package is free, but the upgrade which includes offline access and security measures only costs $29.99/year (USD).
Mind Vector
And if you want to blow up that idea and see where it can go, you need to download Mind Vector a brilliant mind mapping program. Mind Vector is extreme brainstorming. It's a very intuitive and popular program that can give you a clear visual representation of your ideas, so that you can approach problem solving and decision making from a different perspective. According to mind mapping expert Chuck Frey, Mind Vector can improve productivity by 25% and help improve recall and long term memory.

It's a cheap tool at a once-off cost of $42.15 AUD.
MailChimp
MailChimp is a very useful marketing tool that allows you to automate your emails and provide great customer service. It's so brilliant because:
It has many email templates that you can choose from
It is very easy to use
It has a multi-user capability
It can help you target customers based on preferences and behaviour
It offers advanced analytics that can monitor sales and web activity
It's also free if you have less than 2000 subscribers and the packages range from $20/month (USD) if you have over 2000.
Xero
Normally the words 'elegant' and 'accounting' are mutually exclusive but Xero, cloud-based financing software, epitomises easy elegance. It has large capabilities that handle:
Payroll
Online Accounting
Bill Payment
Expenses
Reporting
Invoicing
The data is real-time and you can access it at any time of the day (or night). It also has add-ons that allow it to integrate with over 500 business, so that you can streamline and sync your data. And at $25/month, it is a lot more attractive value proposition than a lot of current enterprise agreements.
Get mobile!
We hope that some of these systems have given you some great ideas in how you can better your businesses agility, productivity and profitability. If you'd like to know more about some great online tech tools then you need to download our 12 tech tools to streamline your tour activity or attraction ebook now!


Booking Boss is an online booking system for tour operators and attraction providers. Trusted by many in the tourism industry, Booking Boss is about getting you out of the spreadsheets and into the sun. We provide free education resources for operators like you, to make your business the best it can possibly be.