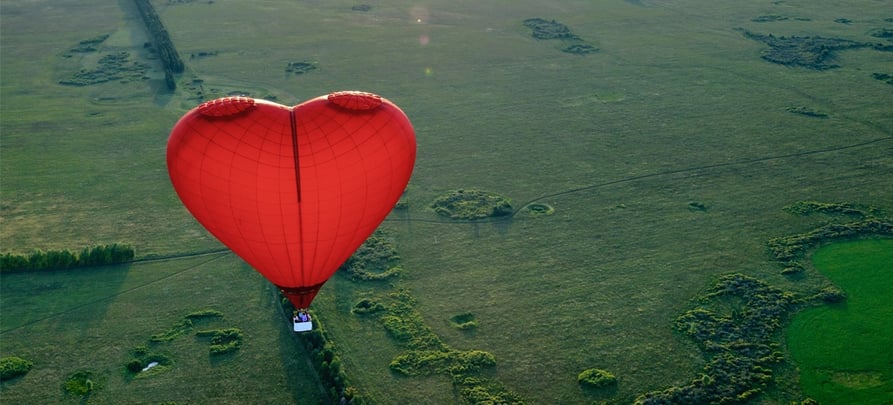 Love is in the air. Dannanannana. Love is in the airrrr.
Okay, enough of that. Let's get serious about Valentine's Day and how to boost your tour and activity offerings.
Have you ever read the history of Valentine's Day? It dates back to when Saint Valentine of Rome used to marry soldiers who were forbidden to marry. He was executed. Not so romantic. It wasn't until the middle ages when the day was associated with romantic love. It took until the 19th century for gifts and flowers to be exchanged. But we all know experiences stay in the mind a lot more than a box of chocolates or flowers, don't we?
This year the day of love falls on a Sunday. As a tour operator, why not pull out all the stops and spread the love, all while boosting your bookings?
Here are three amazing marketing ideas to get you on your way.
Couple packages with a difference
Couple packages are nothing new. But take some time out to jazz yours up with a little extra romance.
Own a cruising company? Make the skipper a DJ for the day with the ultimate love playlist to set the mood. Give the couple a bottle of bubbly, some chocolate and some roses for a beautiful afternoon on the water package.
Running a city walking tour? Point out all the famous romantic and love associated locations. Then make the final destination a scenic landscape. Have a romantic picnic set up for the loved-up couple and leave them to their canoodling.
A small tweak like this can be the difference between scoring Valentine's Day bookings and not. And really, you could do this for any activity - from hot air ballooning to skydiving - you can't go wrong by ending it with a picnic with a view.
Don't think you have to offer a reduced price for this package. Make it clear it's an 'Ultimate Valentine's Day Package' and add a premium to it. People will pay for the extra mile on Valentine's Day.
The ultimate singles day out
If you're not feeling the love for mushy couples, go all out and make some single specific tour and activity offerings. Self-love and empowerment on a day like Valentine's Day could be a real draw card for the solo traveller.
Advertise the ultimate singles day out with a theme of conquering your fears. Skydiving, surfing, 4WD tours and bridge climbing could be some of the more adventurous experiences out there.
If you run a food, wine or brewery tour, change your messaging to make it clear it's not all about couples. Offer the Single Girl's Day Out wine tour package, and get the ladies out with their friends to enjoy the fine wine without their lads. Or, combine your wine tour with a local chocolate factory tour for an extra special 'add on' option to the girl's day out. For the fellas, why put on a 'fish and beer' fishing charter to get away from the lovers with a day on the water with his mates?
Get the word out, quickly!
Whatever tours you specifically offer on Valentine's Day make sure to let your local tourism board know. Most tourism boards have 'What's On' calendars and if your package is unique make sure it gets on there!
Social media can always create a buzz. Spread the world of your 'Ultimate couples day out' or 'Single gal's day out' offering on Facebook and Twitter. Get people thinking about what they are going to do on the day of love.

If you're using a booking system such as Booking Boss set up your packages so your distribution channels have up to date information and accurate availability. Even consider testing the waters by adding your package to more distribution channels. You will be surprised how many people are looking for a last minute Valentine's Day experience on Viator or Expedia!
Existing clients
If your marketing system is top-notch and you're able to target your existing clients in your local area, shoot them an email. Let them know about your fantastic packages.
Final thoughts
Valentine's Day is a fantastic day of the year to sell extraordinary experiences. Whether you spice up a normal package and tailor it for a loved-up couple, or you offer the ultimate mate's day out, your efforts will lead to a unique experience for your guests that they will be talking about for years to come.
Discover the top travel trends for 2016 through Booking Boss CEO Renee Welsh's industry presentation "The new type of traveller & its impact on distribution". Download it now!
Booking Boss is an online booking system for tour operators and attraction providers. Trusted by many in the tourism industry, Booking Boss is about getting you out of the spreadsheets and into the sun. We provide free education resources for operators like you, to make your business the best it can possibly be.